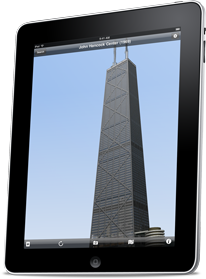 Universal
Now everything that made Cubits great on the iPhone is available for the iPad as well. The interface was redesigned to take advantage of the iPad's larger screen and uses many iPad-specific features.
Better still, you won't have to repurchase Cubits for your iPad — buy it once and run it on both your iPhone & iPad.
Intuitive
Multitouch gestures make manipulating objects in three dimensions more natural than ever before. Orbit objects using one finger to rotate, two to pan (i.e. shift the center of your orbit), and pinch to zoom in or out.
Other Noteworthy Features
Background choices: simulated sky (with or without a ground plane), or solid gray
Toggle axes, textures, and lighting on or off
Optional multisamping on iOS4 devices for the best possible visual quality, eliminating jagged edges
Auto-hiding navigation and controls in the 3D view
Proper depth-sorting and transparency
Independent ambient and diffuse light level controls
Autorotation and built-in rotation lock
iPad Only Features
Show or hide the list view in landscape mode, to maximize the viewing area for your models
Autorotating hides the sidebar
Use of popovers for displaying model information